Second day of trench opening, and you would think with all the archaeology  present on this plot, the various features would be easy to find once the topsoil is off.  Think again!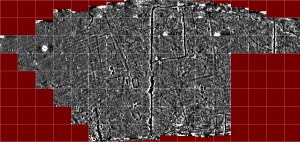 The site has 500mm of topsoil with a thin layer of sand and gravel subsoil, and complicated with unexpected narrow rig and furrow. With a beating down sun, and breeze drying the ground out practically as it was opened up, nice clean dark archaeological features against a sandy natural were not exactly jumping out at us.
The north side of the marching camp ditch running for 200 m  right up the middle of the plot is clear in both geophysical survey and cropmarks, yet locating it has been the bain of the day.