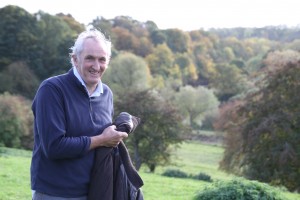 I was first attracted to archaeology in the late 1980's with my brother Graham,   but for the life of me I can't remember what attracted me to the subject in the first place. I probably followed the same route as many.  An interest in history, initially a number of evening classes led by Cleveland County Archaeology Unit, before completing  a Diploma in British Archaeology at the University of Leeds in the early 90's.
I joined the Teesside Archaeological Society and volunteered to set up a  fieldwork group, whereas  I was enthusiastically co-erced onto the committee,  shortly afterwards to be 'promoted' to serve also  as secretary for a number of years.
I established the Mid Tees Project to look at the neglected Roman period in the Tees valley, especially the significance and role of Cades road, and carried out a number of investigations, including investigating and establishing  the Roman villa at Dalton on Tees as a classic developed villa, moving the extent of the villa landscape north to the Tees.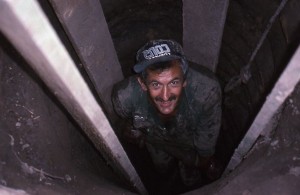 In 1999 I gave an impromptu talk on one of my pet areas of interest geophysics,  to the Council for Independent Archaeology at their Sheffield congress on 'Demystifying Archaeology', after all three speakers pulled out. It is refreshing to see that the CIA from those early tentitive steps now produce the budget TR/CIA resistivity meter which  has 100 units carrying out valuable amateur archaeology.
In the real economy I am a communications and electronics specialist, and have a particular interest in the use of technology in archaeology, especially in the geophysical survey area, My  working life however has  switched between running my own business locally,  and employment maintaining national communication infrastructures, this coupled with the needs of a growing family resulted in limited opportunities to conduct research. After 1999 there was   an 11 year gap in my archaeology due to work and other pressures,  before returning to archaeology in 2010. In the intervening years the Mid Tees Project went into a long slumber, as the principal (me) left the scene. On returning to archaeology and waking up the project,  I have made it incumbent  that in future there  should be no single principal , but a co-operative  project to ensure project continuation. My first port of call for leaders for the project were Jenny Parker and Linda Davies from the early days.
I have from the beginning always considered myself an  amateur archaeologist, who spurns conventional thinking and established theories,  in preference for  original research and fieldwork. A key focus of my work has always been the promotion and extension of traditional amateur archaeology , which since the early 1990's has been  under threat.
Although the instigator of the project, I principally manage the  landscape research and geophysical investigations of our survey area, whilst also maintaining and writing this blog, and occasionally sticking a shovel in the ground when the urge takes me.