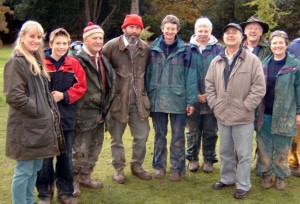 My fieldwork experience began at the age of 14, excavating with the Basingstoke & District Archaeological & Historical Society. It was then that I developed my interest in later prehistory and my lifelong fascination with the beauty of flint. As an undergraduate I worked for Martin Millet on the site of an Anglo-Saxon hall house at Cowdray's Down. After coming to the North East I joined the Teesside Archaeological Society, excavating the Roman villa at Dalton-on-Tees and elsewhere in the Tees Valley. Major collaborative projects have included Foxrush Farm Iron Age/Roman site near Kirkleatham with Tees Archaeology and Streethouse Farm alongside Steve Sherlock. I have also taken part in many excavations across the north-east of England such as Catcote, Stewart Park in Middlesbrough, Sedgefield, Binchester and Arbeia and have taken part in several Time Team programmes. It is as a result of working on some of these sites that I am beginning to develop an interest in the archaeology of early industrial processes, particularly salt manufacturing.
I have a Postgraduate diploma in Archaeology from the University of Leeds. Archaeology forms a major part of my life, but I am strictly and unashamedly an amateur archaeologist working instead as a librarian. I was Reference and Local Studies Librarian at Middlesbrough for 25 years and am now working as a college Librarian in St Chad's College, Durham University.
As a committee member of the Teesside Archaeological Society I edited the society's Bulletin for 15 years and several other publications. I have also co-authored a couple of local history books about Teesside.
As one of the project managers,  my role alongside Linda Davies is to project design and manage our  rolling excavation programme.