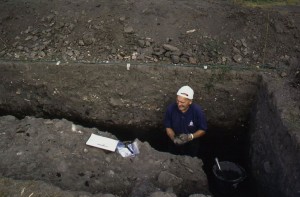 As well as our current volunteers, I intend from time to time to post a brief bio of amateur archaeologist friends who sadly are no longer with us.
I first met Ted Coles in the   in the mid 1990's, when I was leading the fieldwork group  of the Teesside Archaeological Society.  Ted on retirement had recently moved into the area from London to be closer to his family.  Ted had worked on a number of big digs in  the London area, and had an eclectic range of interests including the study and recording of stone horse troughs.
Our Roman dig on the villa at Dalton on Tees was the first time we actually worked together, and Ted soon became one of those amateur archaeologists who become indispensible to the project,  We excavated  at Dalton for a full year on weekends right through a pretty cold winter,  and the one certain thing was that fair weather or foul Ted would be on site. One of my defining images of the dig is Ted,  and another stalwart Howard Carter on site with a hard frost on the ground,  moving around wraith  like  in  the  misty low winter  light.
The image I have published above Ted having a session excavating a large ditch 7m wide, and at least 2m deep  at Dalton (we excavated  half of it).  This ditch is part of what appears to be  pre-Roman tripled ditched  hill fort style of defence,  postioned against the steep scarp  down to the river.
This part of the ditch ran  very close and parallel to the gable end of the large ailed building, and our  trench is adjacent to a doorway into the building.  The gable end of the building was rebuilt or reinforced on at least one occasion, presumably its proximity to a large open ditch made the structure inherently unstable.
The surface you can see with the bags and tools on it, is a layer of broken stone roof tiles that  seem from their layout to  have collapsed as part of a roof  structure into the ditch.   In a lower layer there  are  terracotta roof tiles suggesting   at least one re-roofing of the structure. The ditch was well stratified and appears to have slowly been filled up with domestic waste over the occupation period of the site.   Inconveniently time restrictions at the end of the dig meant we never managed to bottom the ditch due to its unexpected size.  We did however recover pottery from the 2nd century all the way through and including late 4th/ early 5th century Huntcliffe ware. On top of the Huntcliffe ware, stratified native style pottery similar to the earlier local Iron Age type was present.
In the late 1990's work pressure took me away from archaeology, but Ted continued to dig on projects throughout the Tees valley, with  several years  excavating  with  Steve Sherlock at Street House.
In the photo above Ted is about 68, I'm not sure of his exact age when he passed away.  I would imagine he was around about 80 when I bumped into him at Street House a year or so before his death, still digging enthusiastically,  still committed to his archaeology as the guy  I had met shortly after he retired some 15 years earlier.
People like Ted put a whole new perspective on the concept of keeping busy in retirement.  Ted perfectly demonstrated that retirement doesn't have to be all daytime telly, tea dances and a season ticket to the GP once you pass 65,  and that age really is a state of mind.