The Council for  Independent Archaeology has  been central to the debate on archaeology for many years, defending and promoting a vision in the best traditions of amateur archaeology.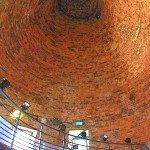 The annual conference of the CIA will take place this year at the Sharpes Pottery Museum, Swadlincote, South Derbyshire  on the 20th October 2017, where an interesting series of talks have been arranged. The conference fee is £20 which includes a buffet lunch together with tea, coffee and biscuits throughout the day. The AGM for members starts at 9.30am with the Conference proper starting at 10.25am.  The Conference is open to all interested archaeologists, independent, amateur, professional or student.
http://www.sharpespotterymuseum.org.uk/
The provisional list of talks is as follows, with others to follow.
 Monks, murder and myths: An archaeological journey through Mercia from Repton to Peakirk         Dr Avril Lumley Prior
2. Industrial archaeology of Sharpes Museum and the Potteries of            South Derbyshire   –    Philip Heath
3. Troy House, Monmouth:  Archaeological aspects and fascinating           history of Troy House, the 17th Century Mansion near Mitchel            Troy   –    Dr Ann Benson FSA
4.  Aerial Photography of Roman Roads in South Wales  –   John                     Sorrell
5.  New views of LIDAR for Wallingford Castle and Town –  Kevin                 Barton and Gerard Latham
6. Littleover Boundary History Project using non-invasive                               archaeology     Tony  Brookes
7. The MkII TR/CIA resistivity meter and plans for the future                        Bob Randall
Of particular interest to those conducting field projects should be the excellent equipment being produced under the TR/CIA banner. The Mk1 resistivity meter has been in use now for many years, and the MkII is a generational leap in the technology, transmitting the data  into a tablet providing instant plots of the survey as it is being conducted. This meter is half the price of comparable meters. Bob Randall will be talking about the direction this exciting project will be going in the future.
For those interested in attending, in the first instance please contact for further details and a booking form.
Keith Foster
Hon Treasurer
2 The Watermeadows
Swarkstone, Derby, DE73  7FX
Tel: 01332 704148
e-mail: skfoster@btinternet.com