The site in the absence of volunteers seems quiet and reflective. Just Jenny, Linda and Rachel to finish off in advance of the digger arriving tommorow to back fill . I have turned up for the morning to hump and dump as required.
Tiny bit of excavation today opening up an area in Trench 4 above a couple of strong metal detector signals identified on the day the site was opened. This is another area where after cleaning down of the hard gravelly surface, no archaeological feature was identified, it was therefore assumed it was natural. and that the signals were probably ironstone, Breaking through the hard crust revealed a metal artifact which  subsequently turned out to be a large nail. This confirms that most of the archaeology is to a greater degree sealed below this material, a good starting point for our investigations next year.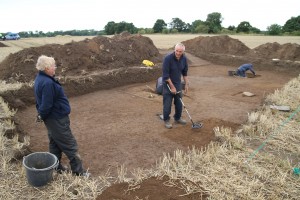 Visit to the site from the members of the local community in Egglescliffe,  informal arrangements made with Brian Dale the landowner to give a talk to the Egglescliffe History Group in due course.
Took the opportunity to extrapolate the line of the north ditch  westwards to its  return southwards near the scarp edge and outside of the arable area,  fixed permanent location markers, offering the project the opportunity to carry out further work if required on the marching camp at any time of the year.
Left the site at lunchtime to go and do some real work, leaving the ladies to finish off.
Asked for identification of this bird that flew into my car, with no takers all I can assume that archaeology and ornithology are not natural bedfellows.  The bird is a Meadow Pippit.